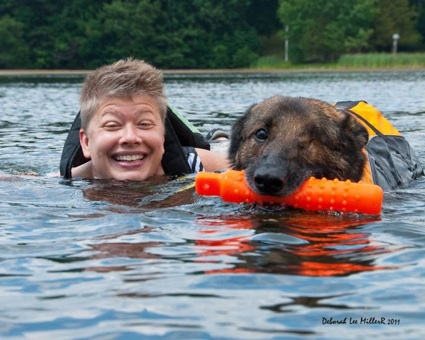 My life with dogs began at a very young age, actually before I was born.  Weeks before I was to come into this world my Mom and Dad rescued a Collie/Shepherd mix, his name was Champ.  He was my constant companion and guardian for 12 years.  My Mom used to call me Dr. Doolittle, since every stray in the neighborhood would find its way to our front yard and camp there until I came out to see what was going on.

Many of my childhood dog's were adopted from shelters, my first job, going into my senior year of high school was a Vet Tech at a local Veterinary Hospital, I took more cats and dogs home than I could count. The first dog I ever trained was a Brittany Spaniel named Smiley. He was a handful to say the least. To this day my Mom can not believe he not only passed level 1 obedience but he came in first place in his class! 

In 1995 I bought my very first dog, a Rottweiler named Phoenix – she was my once in a lifetime dog.  She loved to work and holy mackerel could she use that nose of hers!  I started my SAR career with Phoenix, she had some physical limitations with her back legs but that never slowed her down.  She was an exceptional detection dog and was certified in land (above ground and buried) and water cadaver recovery.  We also trained in narcotics detection with the Philadelphia Police Department.  Phoenix retired from recovery work at the beginning of 2001 but it was short lived, as on 9-11-2001 her services were requested and she was thrilled to be back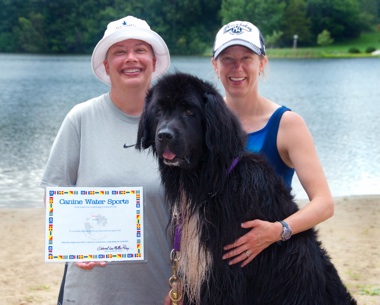 working.  We spent 2 weeks at Freshkills Land Fill on Staten Island, NY searching for victims of the World Trade Center terrorist attacks.  What I thought was going to be a daunting task not only for her, but all the dogs, was done with ease and steadfast determination.  In 1997 I had a GSD come into my life, Chorley, he was my soulmate, he knew and felt my every thought and emotion, nothing was more important to him than me and he made sure that he taught me everything he knew and then some, much more than I could have ever dreamed of teaching him.  Chorley was certified in Wilderness, Urban Search and Rescue and Water recovery.  With Phoenix and Chorley by my side, we were team members of NJ Rescue and Recovery K9 Unit, Palisades SAR Dog Association, West Jersey K9 SAR, PA-TF1 (FEMA USAR), MD-TF1 (FEMA USAR) and NJ-TF1 (SUSAR) teams.                  
In 2008 Maverick and Tori brought me to Canine Water Sports, Tori for her "not so much love of the water" and Maverick for his "so much love of the water"!  Both have taught me so much, from two opposite ends of the spectrum.  Maverick has many accomplishments in canine water sports and is a retired SAR dog.  Tori, earned her Bright and Beautiful Therapy Dog certification and CGC in 2012 and continues to enjoy her water training adventures, at her own pace.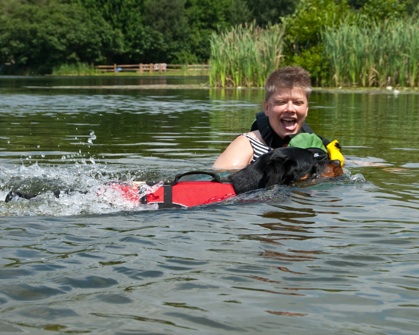 Denise is currently the owner and training director of Search Response K9, co-founder of 4 Paws Adrift – water training club, former president and co-founder of NJ Rescue and Recovery K9 Unit.  She was a certified FEMA and SUSAR K9 Search Specialist, as well as an evaluator and instructor.  Denise is a graduate of Kansas State University with a Bachelor of Science degree in Animal Science and Industry.  She has been a member of APDT since 2009.  Denise was appointed, Water Sports judge by Canine Water Sports in 2011.