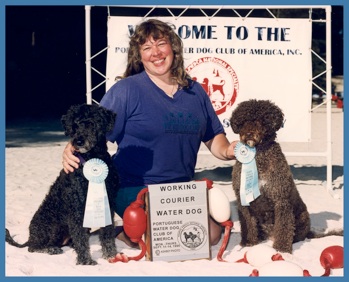 Deborah Lee Miller-Riley has shared her life with animals for over 50 years.  Her first water dog, a chocolate, Standard Poodle named Chopin, was Deborah Lee's constant childhood companion and beloved "sibling".  Chopin's death left a void in Deborah Lee's life, that was not filled until 1986 when, Badge, a very active brown Portuguese Water Dog puppy, challenged her lifestyle and the durability of her furniture.   Badge was soon joined by ("What was I thinking?") the unsinkable Mollie Brown, another PWD.  Both dogs were true to the breed's middle name and were crazed about the water. 

Inspired by the desire to share activities with her zealous water dogs and to maintain the useful working attributes of the breed, Deborah Lee created a series of noncompetitive PWD water tests for Connecticut's Fairfield County Portuguese Water Dog Club, (later renamed Nutmeg PWDC), in 1989.  A few years later the first National PWD Water Trial, which Deborah Lee was instrumental in creating and writing, was accepted by the Portuguese Water Dog Club of America.  Deborah Lee has chaired and served on both local and national PWD watersports committees and been an enthusiastic volunteer at local and national water trials since 1990.  She organized the first local water training workshops and training classes for Portuguese Water Dogs and later organized all-breed workshops.  In 1999 she hosted her first all breed watersports camp and by 2001, Canine Water Sports -- for all kinds of dogs, was made a reality. Deborah Lee has been a watersports instructor since 1993 and proudly serves as a national watersports judge for Canine Water Sports and the Portuguese Water Dog Club of America.

Strongly influenced by the teachings of Dr. Ian Dunbar, Karen Pryor, Suzanne Clothier,   Dr. Patricia McConnell, Jean Donaldson and the work of pioneer animal behaviorists Bob & Marian Bailey, Deborah Lee's training methods are based on the principles of operant conditioning, with positive reinforcement being the preferred consequence for behavior.  Her training philosophies include:

Training is a shared adventure whose primary goal is bring harmony, order, purpose and wisdom to the inter-species relationship.   Wise trainers know the healthiest and happiest relationships are earned through interactions that achieve joyful cooperation, creativity and contentment. 

Volunteered cooperation is always the primary goal of training and sharing life with another being.   VOLUNTEERED cooperation is the highest compliment a trainer can earn from a dog who is given choices.

Praiseworthy moments abound when the focus is on progress not perfection.

Learn to play and play to learn.  Play is FUNdamental to canine learning.

Intelligence, health, structure, temperament, innate drives and experience effect behavior and the ease in which dogs learn our desire.  Appreciate what makes a dog unique and learn what makes your dog happy, this knowledge will aid you when applying the principles of operant conditioning to your teaching program.

A bonus to enjoying a healthy, rich relationship with our dogs is the opportunity to earn titles and awards in dog sports.  Watersports offers teams another avenue to explore canine potential, to enrich a relationship and to earn recognition.  Water loving dogs enjoy learning to be a useful member of a watersports team, especially when provided with a safe, compulsion-free environment and a trainer who maximizes the use of well-timed, positive reinforcements.  A good watersports foundation includes the teaching of core concepts like: swim, swim with a person, retrieve, deliver, tow, submerge, jump off a platform/boat and wet scent work.  Inspiring Joy, Desire and Ability is the path to mastership of these behaviors.

While Deborah Lee believes relationship enrichment and having fun is the primary purpose of training, her dogs have earned over a dozen watersports recognition awards and titles, including the PWDCA Courier Excellent, AKC High in Trial Obedience Dog, multiple placements in AKC Agility, Lure Coursing Awards at Wiz Kid Dog Camp and Owner-handled AKC Best of Breed ribbons for Conformation.  Her most recent canine matriarch, PWD,  Kohl, (1991-2006), earned special heart recognition over the years for her intelligence and adaptability.  On at least two occasions, Kohl rescued Deborah Lee from humbling stupidity.  Locking Kohl and the keys in an office, it was Kohl who located the keys inside the office and brought them to the window to a grateful Deborah Lee.  And again when keys were locked within a running automobile, it was Kohl who pawed the release button to open the car window for a very anxious and pleading human. Kohl passed her smarts on to two litters.  At home all of the Riley dogs are given retrieve and courier duties, including responsibility for shoes, mail, phones, dog bowls, TV remote controls and stairway dispatches.

Deborah Lee is a retired 30 year veteran with the Norwalk, Connecticut, Police Department, last serving in the Patrol Division at the rank of sergeant.  She lives in Connecticut with her husband Thomas, a retired police lieutenant, who is also a certified police diver and an ardent sea fisherman, and a crew of "Best in the World" Portuguese Water Dogs.  Three Dogs Running Studio for Animals Only, her photography business, also keeps Deborah Lee busy in between training, coaching and creating water fun.  Memberships include the Association of Professional Dog Trainers, Portuguese Water Dog Club of America, and Yankee Paw Paddlers.