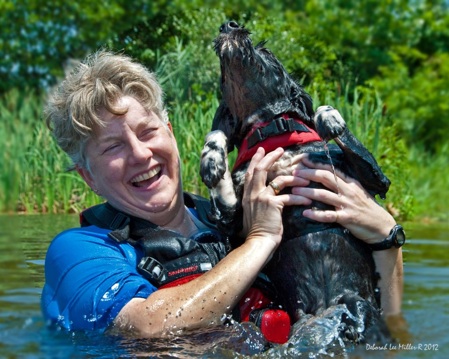 Canine Watersports is a dream come true for athlete Kimberley Gage .  

An athletic child, Kim enjoyed basketball, softball, tennis,  racket ball and  skiing,  but it was swimming where Kim excelled.   Kim just loved the water.  After taking swim classes at her hometown YMCA  Kim was hooked and jumped in for the big splash as a competitive swimmer.  Competitive sports taught her about self discipline and success through teamwork.    When she wasn't training or in a swim match Kim and her dog were off in nature, rooting around streams, catching tadpoles, frogs and other aquatic creatures for study.  Her family also loved the water and Kim and her family spent their summers swimming and sailing the beautiful waters of Rhode Island's Narragansett Bay.  Kim's fondest memories are of her childhood "best friend", a  Boxer named Duchess, but Kim was also a sibling to Golden Retrievers, Labradors,  and  a German Shepherd. Dogs were just part of the family  back then and they shared in all the family adventures.  During these years Kim learned to appreciate the companionship of a good dog, to respect their nature and to lead through kindness and motivation.  The first dog  Kim raised  as an adult was a wise and gentle soul named Celie.  She was a Bichon who blossomed  under Kim's study and practice of the emerging "reinforcement" based training methods. It was Celie who taught Kim the language of "dog" and a level of awareness, respect and patience never before experienced with her dogs.  Kim remembers Celie often and is forever grateful for Celie's loving lessons and the special connection they shared.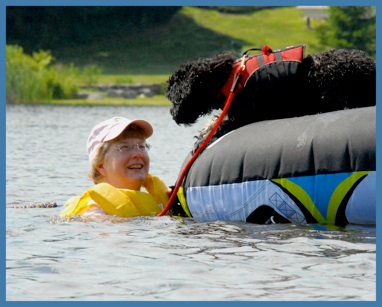 Kim has continued to enjoy sports of all kinds including Triathlons in the over-40 group!  Her love of dogs has taken her to numerous workshops  and classes in dog behavior, sports and learning theory.  Her present crew of Portuguese Water Dogs share her passion for sports and they often team up for agility, tracking, obedience and watersports.  Kim joined Canine Water Sports as a First Mate (staff assistant) for the 2004 Pennsylvania Splash Camp and has been on board ever since.  From Student, to Exhibitor, to Chief Steward, to Water Judge, Kim's warmth, humor, enthusiasm and team spirit has been an asset to Canine Water Sports and a shining example of Good Sportsmanship.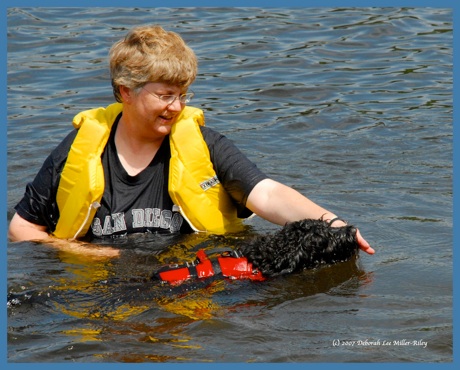 Kim lives in Connecticut with  four very special Portuguese Water Dogs, Tiller & Brisa, and their pups, Brody & Jessie.  She has a Bachelors Degree in Psychology and is presently working part time toward a Bachelor of Science in Electrical Engineering.  She is also a weekend "dog wrangler" for Animals Only Photography where her degree in psychology, her experience & passion for dogs and her love of nature all work to help produce great canine images.  Kim is a member of the Nutmeg PWD Club and the PWD Club of America.