Discover

What You Can Learn & Do

In Canine Water Sports!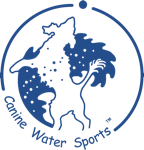 Canine Water Sports / FACEBOOK

Join the group list to get information on training methods, changes in rules and regulations, chat with other water dog enthusiasts and share your success stories.

Build your own Water Training Platform

Read articles and discussion notes submitted by water dog trainers.

Enjoy success stories written by water dog owners.

Words to make you think.

Can't find a watersports group in your area - why not start one?  Gather a few dogs friends who want to learn about Canine Water Sports and organize your own workshop. We can connect you with CWS Instructors or help you create a water workshop that caters to the specific needs of your training group, organization or facility.